BLACK COLLEGE SPORTS & EDUCATION FOUNDATION, Inc.
RECAPS OF 2019  TOP STORIES
Aggies Finish on Top Again
Senior QB kylil carter sets bowl records
In the 5th Annual Celebration Bowl, senior quarterback Kylil Carter left his indelible imprint on the NC A&T football program in his last college football game. Carter completed 18- 30 for 364 yards and six touchdowns as the Aggies rumbled past Alcorn State, 64-44 for their third consecutive Celebration Bowl. He added another 96 yards rushing against the Braves (9-4), one of the best defenses in the Southwestern athletic Conference this year.
The 64 points are largest ever scored and the 20 points were the largest margin of victory in the series.
Carter's performance matched the school record for a single game held by Alan Hooker in 1985. He now owns four Black College Football Championship rings.
READ MORE
Offensive MVP: KYLIL CARTER Quarterback     5'10" 229 lbs
ST. AUG'S HEAD TRACK AND FIELD COACH RECOVERS IN TIME TO LEAD THE FALCONS INTO HISTORY

In October, legendary St. Augustine's University track and field coach George "Pup" Williams was involved in a motor vehicle accident in Qatar, where he was attending the IAAF World Athletics Championship meet.
After recovering well enough to travel back home, he is rapidly on the mend and looking forward to leading the Falcons to their fortieth national title.
His legacy is well documented and he has a chance to adding to his record.   READ MORE
KAYLA STREAKS TO NCAA FAME
ncaa 200m CHAMPION AIMING FOR THE OLYMPICS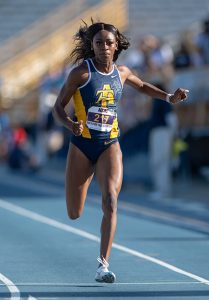 North Carolina A&T's All-American Kayla White became the Aggie's first NCAA champion in March when she won the 200 meters indoors (22.52 seconds). In June, the senior ran a personal-best of 10.95 seconds and claimed second place in the 100 meters on the final night of the NCAA Track and Field Championships in Austin, Texas. She is certain to be invited to the Olympic Trials.
The A&T women's team impressive showing was good enough for a No. 15 ranking in the NCAA.
BOWIE STATE GOES BACK TO BACK
bulldogs beat fsu for the second straight year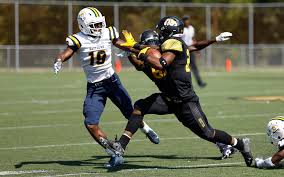 In only their second CIAA championship game, No. 11 Bowie State University captured its second consecutive CIAA Football Championship, defeating Fayetteville State University, 23-7. The Bulldogs finished an undefeated season with a 11-0 record. For the second season, the Bulldogs defeated the Fayetteville State's Broncos for the conference crown.  READ MORE
GET...GIVE; LEARN...TEACH...Maya Angelou
The Black College Sports & Education Foundation is a supporter of Historically Black Colleges and Universities and work to contribute to their success.
The College Preparation Assistance Program (CPAP) serves students and athletes who need help in charting and navigating a path to reach their goals.
For more information or to enroll:
Black College Sports & Education Foundation – the gateway to
unlimited access to Historically
Black Colleges and Universities.
We offer a  free Comprehensive Preparatory Assistance Program .
Provide a seamless transition for prospective students and athletes who wish to attend an HBCU. 
Support the preservation of HBCUs through promotion and recruitment.