Brief History of Former Black College Stars who were snubbed by PWIs
I attended my first National Basketball Association Media Day in the 1984 and as a "rookie" sports writer, I was awed by the big time press pundits in attendance. I took a seat near the rear of the room and soaked in the atmosphere.
It was one of the first highlights of my young fledgling career.
While everyone was commenting on the upcoming season, the top newcomers and other business, I was anxious to ask the question, "Why weren't Black college players being talked about in the same breath as everyone else?"

There was Larry Smith, Alcorn State, (taken in the 2nd round, no. 224, Golden State Warriors) and the 
CIAA Player of the Year Rick Mahorn (Hampton, 2nd round, no. 35, Washington Bullets) who went on to have better careers than 19 of the first and second round picks taken before them. Both player won championship rings in their careers.
I didn't ask, but I did my homework. There was a lack of interest in scouting these programs because the rhetoric was – there was not a dearth of talent warranting the expense of covering them. This might not be the right vernacular but the point is, the talent drain after integration nearly crippled many Historically Black Colleges and Universities programs.
Even though the 1950-60s produced Hall of Famers like Earl Lloyd, West Virginia State; Dick Barnett, Tennessee State; Willis Reed, Grambling State and Earl Monroe, Winston-Salem State, there was evidence that many other players who broke the glass ceiling were major contributors and championship caliber performers but were not "draft worthy."  But, there  were many more free agents who had to climb the ladder of professional respectability.
…Which brings us to football.
Four of the greatest players in the Pro Football Hall of Fame are among the Black college elite who raised the performance bar alongside Jim Brown (Syracuse), Bo Jackson (Auburn) and Ernie Davis (Syracuse) and others.
Whether running back, wide receiver or defensive stalwart, at one time in their pro career, they led in the most important categories at their position. One thing they all shared in common: they were certainly top college prospects worthy of a big time scholarship at a predominately white institution.
Let's take a look at this select group:
Walter Payton, Jackson State University (1971-75) (SWAC)  
One of Mississippi's best high school running backs, he received no invitations from Southeastern Conference (SEC) schools like Ole Miss, Alabama or Auburn. So, Payton attended Jackson State and played alongside future pro players: Jerome Barkum, Robert Brazile, and Jackie Slater (another Hall of Fame member). Payton set college football records in rushing – more than 3,500 yards and averaged 6.1 yards per carry and broke the NCAA rushing scoring record with 65 touchdowns.
He made the All-American Team First Team in 1973 and was Black College Player of the Year in 1974. He earned his bachelor's degree in Communications in 1975.
He was the first round pick (no. 4) by the Chicago Bears and became one of the most prolific running backs in the history of the National Football League. Payton was a nine-time Pro Bowler and once held the league's record for most career rushing yards, most touchdowns, most carries, most yards from scrimmage, and all-purpose yards.
He threw eight career touchdown passes (an NFL record for non-quarterbacks) No. 2 (Frank Gifford, NY Giants); was a 2-time NFL Most Valuable Player (1977, 1985) and Bert Bell Award (1985); NFC Player of the Year (1985), NFL Offensive Player of the Year (1977), Super Bowl champion (XX), Pro Football Hall of Fame, 1993, NFL 1970s All-Decade Team, NFL 1980s All-Decade Team, NFL 75th Anniversary All-Time Team. The Walter Payton Award named in his honor.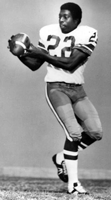 Bob Hayes, Florida A&M University (1961-65) (SIAC)
A record setting dual threat in two sports, Hayes was a two-sport stand-out in college in both track and football at Florida A&M University. Though a highly recruited athlete in the state of Florida, he accepted a football scholarship from Florida A&M University to play for legendary head coach Alonza "Jake" Gaither. He ended up excelling in track & field and never lost a race in the 100 yard or 100 meter competitions, but mainstream schools of the area still did not invite him to their sanctioned meets.
Considered the world's fastest man after setting multiple world records in the 60-yard, 100-yard, 220-yard, and Olympic 100-meter dashes, he  is the only athlete to win both an Olympic gold medal and a Super Bowl ring. 
In 1963, he broke the 100-yard dash record with a time of 9.1, a mark that would stand for eleven years and set the world best for 200 meters (20.5 seconds). He was selected to the US Olympic Team in the 1964 Summer Olympics in Tokyo and set the world record in the 100M and the 4X100M Relay team to a world record 39.0 secs.
College honors: 3-time AAU 100 yard dash champion, 1962–1964
NCAA champion, 200 meter dash, 1964; Florida A&M University Sports Hall of Fame, inaugural class, 1976; Southern Intercollegiate Athletic Conference Hall of Fame, 1996, Black College Football Hall of Fame, 2011

NFL Career
Although Hayes was an outstanding wide receiver on FAMU's vaunted offenses on the '60s, he was not a high draft choice – taken in the seventh round (88th pick) of the NFL Draft by the Dallas Cowboys and the 105 Pick (14th Round) in the AFL Draft. Hayes went on to have a spectacular career and is credited with altering the way defensive secondaries played the game with his speed and athletic ability.
NFL Career Highlights: 3-time Pro Bowl (1965–1967); 2-time First-team All-Pro (1966, 1968); Second-team All-Pro (1967); 2-time NFL receiving touchdowns leader (1965, 1966); Super Bowl champion (VI).
Receptions: 371, 7417 Yards, 71 Tds. Inducted into the Dallas Cowboys Ring of Honor and Pro Football Hall of Fame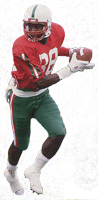 Jerry Rice, Mississippi Valley State University (1981-84) (SWAC) 
Rice shattered just about every NCAA receiving records including a record-setting 1983 season with 102 receptions and 1,450receiving yards. 
College honors:
First Team Division I-AA All-America; single-game NCAA record with 24 passes (vs. Southern University); broke his own Division I-AA records for receptions (112) and receiving yards (1,845),27 touchdown receptions in 1984; Named to every All-American team; finished ninth in Heisman Trophy balloting in 1984. Was MVP in the Blue Gray Classic All-Star Game; inducted into the College Football Hall of Fame, 2006. 
NFL Career statistics
Considered the greatest wide receiver in NFL history
Played 20 seasons in the National Football League
All-time leader in most major statistical categories for wide receivers:
Holds over 100 NFL records, the most of any player; 1,549 receptions, career, 22,895 receiving yards, career, 197 receiving touchdowns, career, 23,546 all-purpose yards, career, NFL Most Valuable Player; 2-time NFL Offensive Player of the Year, NFC Player of the Year, Bert Bell Award, 2-time NFC Offensive Player of the Year, NFC Rookie of the Year (1985); 6-time NFL receiving yards leader, 6-time NFL receiving touchdowns leader, NFL 75th Anniversary All-Time Team, NFL 1980s-90s All-Decade Team, 13 Pro Bowls, 12-time All-Pro (20 NFL seasons); Three-time Super Bowl champion; The Top 100 NFL's Greatest Players; College Football Hall of Fame, Pro Football Hall of Fame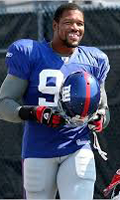 Michael Strahan Texas Southern University (1990-93) (SWAC) 
Michael Strahan played one season of football and was relatively unknown in scouting circles. He accepted a scholarship offer to play at Texas Southern University where he became one of the most dominant defensive ends in college football. It earned him All-America First Team by: The Poor Man's Guide to the NFL Draft, The Sheridan Network, Edd Hayes Black College Sports Report and
Associated Press. He was a 2nd Round/ 40th pick in the 1993 NFL Draft by the New York Giants and had a spectacular career as one of the leading sackers of all-time.

Career NFL statistics: 854 Tackles, 4 Interceptions, 24 Forced fumbles…NFL record 22.5 sacks in a season. Set a career record for the most sacks with 141.5.

NFL honors: 7-time Pro Bowl ; 4-time First-team All-Pro, 2-time Second-team All-Pro, 2-time NFL sacks leader, 2-time NFC Defensive Player of the Year, NFL Defensive Player of the Year, NFL 2000s All-Decade Team, New York Giants Ring of Honor, Super Bowl champion (XLII) 2007
Then, there's not enough room here to tell you about the super men and women who tore up the tracks in the AAU, NCAA and Olympics…that's another story.
To be continued.